THE CHEWING GUM BRUSH
Be convinced with the new science

!
​
Welcome to the site of The Unique Chewing-Gum-Brush.
The Chewing-Gum-Brush is a small tooth brush that is used as a piece
of chewing gum, to keep your teeth white and clean while massaging gums.
It was developed by dentists, and designed for more comfort with floss function.
​
It is nice to do, it cleans even so good as normal brushing or even better,
(studies shows), it will clear-up gingivitis within days and will keep your gums healthy.
It prevents gum infection and bleeding gums, confirmed by several scientific studies.
​
​
As our teeth are important to our basic health, with this smart tiny
Chewing-Gum-Brush we promote: Clean white teeth, Healthy Gums and Fresh
Breath ON THE GO. By using the unique Chewing-Gum-Brush you can maintain
our teeth and gums timeless, in a cool and tasty way anywhere you like.
No hands or water needed.
​
​
Happy Chewing!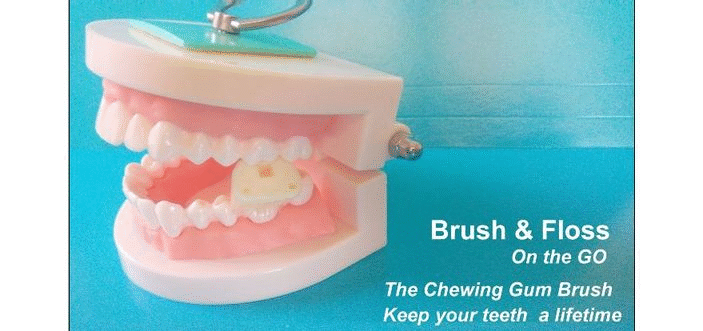 The extra soft and fine bristles of the brush reach between the neck of teeth and molars and curl deep in the Gum pockets, sweeping out food debris and bacteria buildup. "Brush & Floss" in one movement
ONE MONTH SUPP.
36 Brushes

$14.95
the "Chewing-Gum-Brush"
​
"Gingivitis" is mainly caused by a combination of insufficient brushing and flossing resulting in poor blood flow to the gums and build up bacteria.

The Brush & Floss on the Go, "chewing-gum-brush" cleans teeth and massages the gums, activates optimum blood flow.

It's very pleasant to do. (Such as chewing a chewing-gum)

Gingivitis is now easy to cure and to prevent with the unique "Chewing Gum Brush", with a result within days.

Even after a first use you will notice a big difference. Your teeth feel clean and fresh. By regular use this condition will stay over time.

The "chewing-gum-brush" is a remedy that has been researched and proven by the Dutch Dental Institute for periodontology. (All records on file).